I lost my Iphone 6+ on the floor New Year's Eve and the screen unfortunately broke. My first thought was, of course, to find a replacement screen at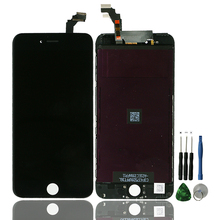 ther damage to my beloved Iphone. I read a lot of feedback for vendors selling Iphone screen replacements and checked Youtube for reviews as well. I found that some shops on Aliexpress have some negative feedback concerning the size of the replacement screeens. The feedback states that the iphone replacement screens are either too small or too big. There were some other issues as well but they did not seem to be of any importance since they weren't very common nor well described.
So I began my research on Aliexpress for a shop with no negative feedback regarding the iphone screen replacement size. I found a considerable amount of these and then I took the shop with the best overall feedback score.
Aliexpress iphone replacement screen tutorial
3 weeks after ordering my replacement screen from Aliexpress I received it in the mail. I was eager to get started but I had no idea on how to do it. I saw that the shop I ordered from on Aliexpress had a small picture tutorial but I still did not feel sure about doing it.
Then I found a video on youtube that was a step by step tutorial and I found it very useful. He got his replacement screen from Amazon but I can't imagine it to be different from the one I ordered from Aliexpress. Price on Amazon is actually about the same but without the shipping costs.
I followed the Youtube tutorial and now my phone is as good as new again. It costs around 300$ to get it fixed in a shop in Denmark, so it saved me 235$ to buy the replacement screen from Aliexpress and fix it myself. I have now ordered an Iphone Bumber to be sure it won't happen again.